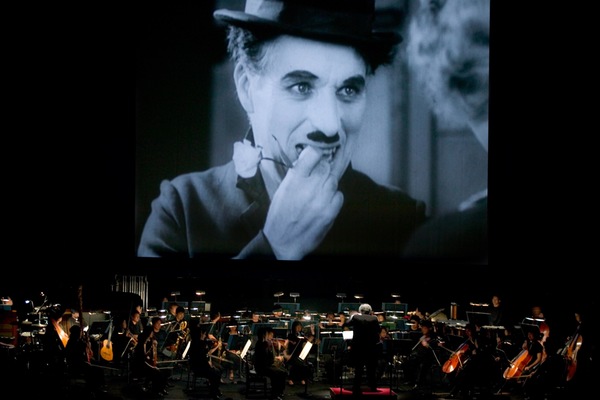 FAQ - Chaplin Film Concerts
consulter la version française des Questions Fréquemment Posées
What are the different steps for organising a live orchestral Chaplin screening?
First of all, you should contact us at Roy Export SAS (office@charliechaplin.com) with as much information as possible about your orchestra or your company, specifying which film you'd like to screen, the exact date(s), the venue, the number of seats, the number of screenings, and whether they will be for the general public or for school audiences.
We would also need to know the screening format: 35 mm film print, DCP (Digital Cinema Package), HDCAM or DigiBeta. We strongly encourage 35 mm prints and DCPs whenever possible. HDCAM would be the next best option. We are trying to phase out DigiBetas, but they are nevertheless available as a last resort. Other formats may be available for certain titles.
We will then be able to send you a draft contract and reserve your requested screening material.
Once the contract is signed, you may contact our music publishers directly to hire the score of the film you wish to screen.
We will send you some promotional material. We will also send you a timecoded DVD for your rehearsals approximately one month before your first screening date. Please note that the conductor will have only visual cues written on the score to work from. Depending on the film, the timecoded DVD will either be mute or it will contain sound effects only (no music). The timecode appears for reference only - it does not correspond to anything marked on the actual score. The conductor should therefore rely on the visual cues written on the score, and not the timecode on the practice DVD.
Which are the most difficult scores to conduct?
The score to Modern Times is the most problematic because of the extreme difficulty of synchronizing some extremely fast music to the precise images it was composed for. This is why it is only available to certain conductors, such as Timothy Brock who restored most of the Chaplin scores for us, including Modern Times.
Next in difficulty are The Gold Rush, City Lights and A Woman in Paris.
Then Shoulder Arms, A Dog's Life, The Pilgrim, A Day's Pleasure and Pay Day.
The Circus, The Kid and the Idle Class are the easiest ones to conduct.
How many rehearsals are necessary?
As many as possible! Generally, orchestras need 3 or 4 rehearsals before the performance date, plus the dress rehearsal. The musicians may rehearse on their own at home. This is why the scores are sent one month before the show.
To help you rehearse, you will receive a timecoded DVD without music. Visual cues are noted on the scores of each film, and are more or less frequent depending on the film.
We ask that orchestras practise as much as possible, in order to achieve perfect synchronization between the film images and the music. For example, in Modern Times, Chaplin runs through the crowd to the factory gate and squeezes in just as the gate shuts – and a piccolo squeaks just as he squeezes through. If the music is not perfectly synchronised, it considerably reduces the humour of the film, and the success of the film as a whole.
Music played a major role for Chaplin. The scores were written instead of dialogue, so the music must be synchronised with the right images - one would never dream of moving dialogue from one image to another.
Why can't I compose my own score for a Chaplin film?
We never allow our films to be screened without the full symphonic score that Chaplin himself composed, either on the film's actual soundtrack or played live by an orchestra. Any new arrangements or any piano or organ reductions of the original score are not authorised.
We are sure that you will understand our policy that as Chaplin himself composed music for his own films, they should only be screened with that music as he wanted it. It isn't for us to change this. Try and imagine Hitchcock's Psycho with a different score…
Chaplin did not compose music for the many films he made before 1918. These can happily be accompanied by the music of your choice, so musicians have a free hand to compose the music that they think fits Chaplin's humour.
Live orchestral screenings with a commercially available DVD are not possible for the following reasons:
Chaplin composed scores for some of the films in the 1970s, at 24 images per second, the required speed at the time for television and movie theatres. Some of the films we now propose have been slowed down to their original speed from the silent period: 18, 21 or 22 images per second, depending on the film. Therefore, the scores have been adapted for the film at this slower speed, and do not correspond to the 25 frames per second that you'll find on a DVD in a shop today.

Some of the films (for example, City Lights and Modern Times), have a sound-effects only soundtrack, and in the case of Modern Times it even includes recorded dialogue scenes and Chaplin singing the nonsense song. If you turn off the sound on a commercially available DVD and play live music instead, you will be missing some very important sound.

The quality of the compressed image for DVD formats is not high enough to be projected onto the screen in a large performance venue. High quality screenings are important to us. This is why we insist on three quality formats: 35 mm print, DCP and HDCAM. We are trying to phase out DigiBetas, but they are nevertheless available as a last resort. We can, however, authorise blu-ray and DVD screenings in venues with fewer than 200 seats. For the time being, only some of our films are available for small venue blu-ray/DVD screenings. Of course, the blu-rays and DVDs that we provide run at the correct speed to fit Chaplin's score.
Where can I hire a 35 mm print, DCP, HDCAM, DigiBeta or other format?
From our company, Roy Export. Once the contract is signed, we will reserve the material for you and send you the technical specifications for projection.
35 mm prints are shipped to arrive about 1 week before your first show date and the DCPs, HDCAMs and DigiBetas are shipped about 10 days before. The material will come from either Immagine Ritrovata in Bologna, Italy or Photoplay Productions in London.
Main Contact for Chaplin film concerts
Roy Export S.A.S.
Contact: Arnold Lozano
Tel: +33 1 40 26 31 23
Fax: +33 1 42 36 42 90
Email: office@charliechaplin.com
Site: www.charliechaplin.com
Where do I hire the film score?
From our music publishers, Bourne Co., in New York. We provide their address in the contract we send you for the 35mm print, DCP, HDCAM or DigiBeta hire. You will be signing a contract for the music hire directly with them.
Germany and Italy
Live orchestral Chaplin screenings in Germany are organised by our agents, Europäische FilmPhilharmonie - EFPI - GmbH. Please contact them directly if you wish to organise a live orchestral Chaplin screening in Germany.
Europäische FilmPhilharmonie - EFPI - GmbH
Attn: Beate Warkentien
Charlottenstr. 65 I 10117 Berlin
Phone: +49 3027890 194
Fax: +49 30 27890 195
E-mail: warkentien@filmphilharmonie.de
www.filmphilharmonie.de
Live orchestral screenings in Italy are organised by our agent Mario Ingrassia. Please contact him directly if you wish to organise a live orchestral Chaplin screening in Italy.
MAMUSIC
Attn: Mario Giovanni Ingrassia / Dario Mannino
Via Faentina 238B I 50133 Florence
Phone: +39 055 0516760
Fax: 055 0516665
E-mail: mgingrassia@mamusic.it
www.mamusic.it
How much does it cost to organise a live orchestral Chaplin screening?
Our fees for hiring a 35 mm print, DCP, HDCAM or DigiBeta are: 3,600 euros for a feature film and 2,000 euros for a short film. The film hire fee for The Kid alone is 2250€. For two shorts (which may include The Kid) performed at the same show, the film hire fee is 3600€. VAT will be added to these fees if it is applicable to your country.
We have reduced fees available for venues with less than 700 seats, and for any subsequent performances within the same month. Please tell us if you wish to do a performance for schools or if you need special favours for any particular reason. We are open to persuasion!
You should also take out an insurance policy to cover damage to the film while it is in your custody. The value of a feature 35 mm print is 4,000 euros. It is 1,000 euros for a DCP, HDCAM or DigiBeta. You will also need to pay for transport costs from London or Bologna, depending on the title, and back. The music score hire is approximately 800 euros, plus deposit, transport costs and insurance.
On top of that, there will be the fees of the orchestra you wish to hire…and the conductor…
Organizing a live orchestral film screening can be quite expensive, but it's worth it - they are always a huge success.
Are there any Chaplin films that I can compose my own score to?
All of the films made by Chaplin before 1918 are in public domain. He did not compose any music for these films. These may be accompanied by the music of your choice. However, different people or companies may have copyright in and to any image restoration they have carried out on the films, or in and to the music put on a particular video or DVD to accompany the films. Therefore, we strongly advise you to seek authorization for screening such copyright material. We can put you in touch with the rights holders of the best restored materials if you so request.
Here is a list of pre-1918 films:
Films produced by KEYSTONE FILM COMPANY 1914
Chaplin wrote, directed and edited all these movies, except those marked with an asterisk (*), which were produced by Keystone Film Company.
Making a Living* (or Doing His Best – Troubles – A Busted Johnny)
Kid Auto Races at Venice*
Mabel's Strange Predicament* (or Hotel Mix Up)
Between Showers* ( or The Flirts – Charlie and the Umbrella – In Wrong)
A Film Johnnie* (or Movie Nut – Million Dollar Job)
Tango Tangles* (or Charlie's Recreation – Music Hall)
His Favorite Pastime* (or The Bonehead – Reckless Fling)
Cruel, Cruel Love* (or Lord Helpus)
The Star Boarder* (or the Has House Hero – Landlady's Pet)
Mabel at the Wheel* (or His Daredevil Queen – Hot Finish)
Twenty Minutes of Love (or He Loved her So – Cops & Watches – Love Fiend)
Caught in a Cabaret* (or The Waiter – Jazz Waiter – Faking with Society)
Caught in the Rain (or At it Again - Who Got Stung – In the Park)
A Busy Day (or Militant Suffragette)
The Fatal Mallet* (or The Pile Driver – The Rival Suitors)
Her Friend the Bandit* (or Mabel's Flirtation – A Thiefcatcher)
The Knockout* (or Counted Out – The Pugilist)
Mabel's Busy Day* (or Charlie and the Sausages – Love and Lunch – Hot Dogs)
Mabel's Married Life (or When you're Married – The Squarehead)
Laughing Gas (or Tuning His Ivories – The Dentist – Down and Out)
The Property Man (or Getting His Goat – The Roustabout – Vamping Venus)
The Face on the Bar Room Floor (or the Ham Artist – The Ham Actor)
Recreation (or Spring Fever)
The Masquerader (or Putting One Over – The Female Impersonator – The Picnic)
His New Profession (or The Good for Nothing – Helping Himself)
The Rounders (or Oh What a Night – Two of a Kind – Reverly (?))
The New Janitor (or The New Porter – The Blundering Boob)
Those Love Pangs (or the Rival Mashers – Busted Hearts)
Dough and Dynamite (or the Doughnut Designer – The Cook)
Gentlemen of Nerve (or Some Nerve – Charlie at the Races)
His Musical Career (or The Piano Movers – Musical Tramps)
His Trysting Place (or Family House or the Hen Pecked Spouse)
Tillie's Punctured Romance* (or Tillie's Nightmare – Marie's Millions)
Getting Acquainted (or A Fair Exchange is no Robbery)
His Prehistoric Past (or A Dream – The Caveman – King Charlie – The Hula Hula Dance!)
Films produced by ESSANAY PRODUCTIONS 1915 – 1916
His New Job
A Night Out
The Champion
In the Park
A Jitney Elopement
The Tramp
By the Sea
Work
A Woman
The Bank
Shanghaied
A Night in the Show
Charlie Chaplin's Burlesque on Carmen
Police
Films produced by MUTUAL FILM CORPORATION 1916-1917
The Floorwalker
The Fireman
The Vagabond
One A.M
The Count
The Pawnshop
Behind the Screen
The Rink
Easy Street
The Cure
The Immigrant (or the Refugee)
The Adventurer